I have a pretty collection of inspiring hotels and places I would love to stay at someday. I am a bit of a bookmark hoarder, I confess, I save a lot of different links (hotels, things to do or see, cafes to go one day etc) and I thought, why not share it with you? That way one of us gets inspired and sooner or later goes, right? Double-win.
Since many of you found my previous post about KL getaway hotels useful, I thought I'd share more. So here's the second round: 7 inspiring tree house hotels in Asia. Bookmark, share and enjoy!
1. Gibbon Experience – Laos
An eco project aimed to save the rainforest in Laos by engaging in a few projects like treetop architecture, ziplines (they have 15km of ziplines!), national park patrolling, reforestation, sustainable agriculture and more.
To stay at a 30-40m high treehouse you need to book either a 3 or 2 day adventure package.
Rates: $100 per night within a package – food included
Gibbon Experience Website
2. Pai Treehouse Resort – Pai, Thailand
7km away from the Thai town of Pai hides a lovely treehouse hotel. According to their Airbnb description: "Pai is an ideal destination for travellers looking to experience a crossroad of cultures and races living together in harmony." A friend of mine once stayed there and said it was really nice. So I'm adding it to the list.


Rates: from $30 per room per night
Pai Tree House Website, Airbnb listing
3. Tamarind cottage treehouse – Chiang Mai, Thailand
"A family-owned treehouse resort, located in a small village and surrounded by the teakwood forest. Mr. Bullsiri (Lee) Suwannachin, the owner is a retired architect. He has started the treehouse project since 2010 as a family vacation home. Later, it was opened for the public in 2012. Now we have 6 cottage treehouse and 2 family treehouse to welcome our guests from all over the world. Each unique treehouse was designed and built with love and care" (taken from their Airbnb description)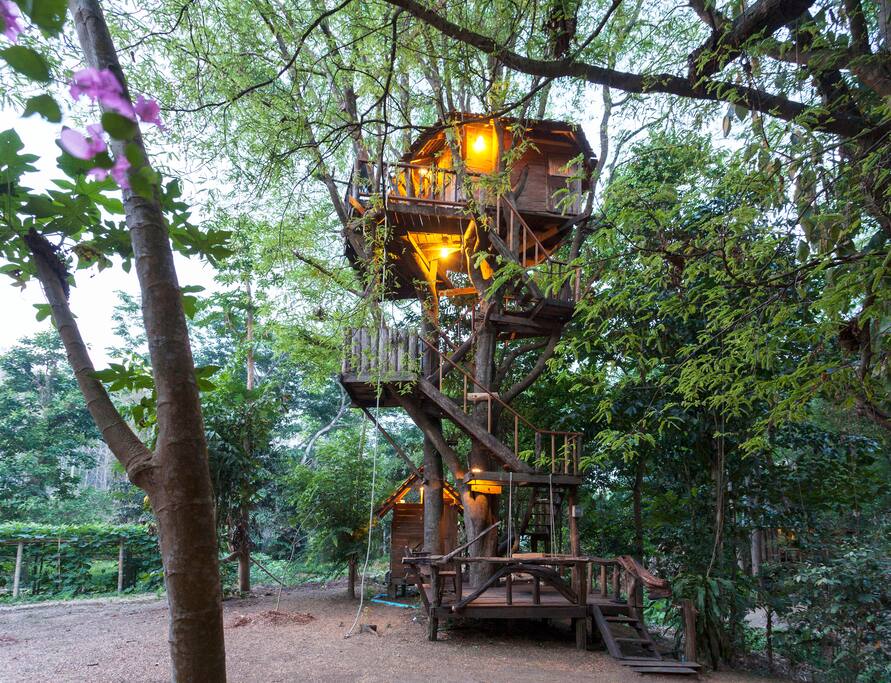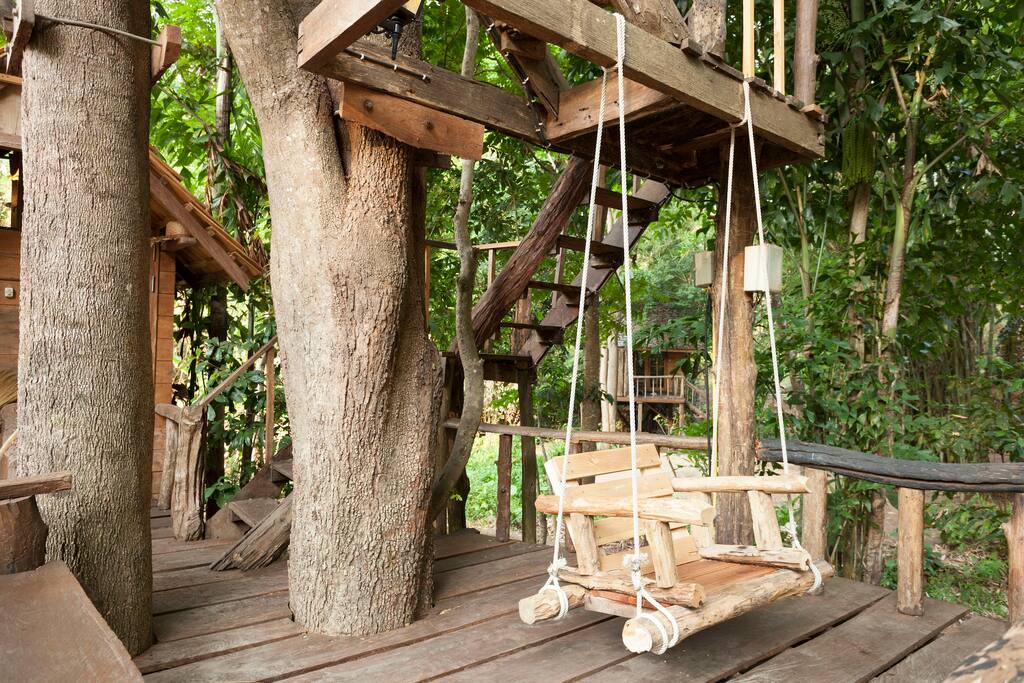 Rates: from $60 per room per night
4. Sanctuaria Treehouses – Busuanga, Philippines
"Sanctuaria Treehouses is an eco-friendly native tree house resort that allows travelers to experience the Palawan lifestyle. Situated on top of a hill and secluded within a lush jungle, guests can enjoy a peaceful and quiet retreat in nature. Whether you enjoy the scenery from your private tree house balcony, relax on the outdoor stonewall bar, or sit in the open-style game room or look-out point, every corner offers a beautiful view of the ocean and, of course, the famous Palawan sunsets." (taken from their Airbnb description)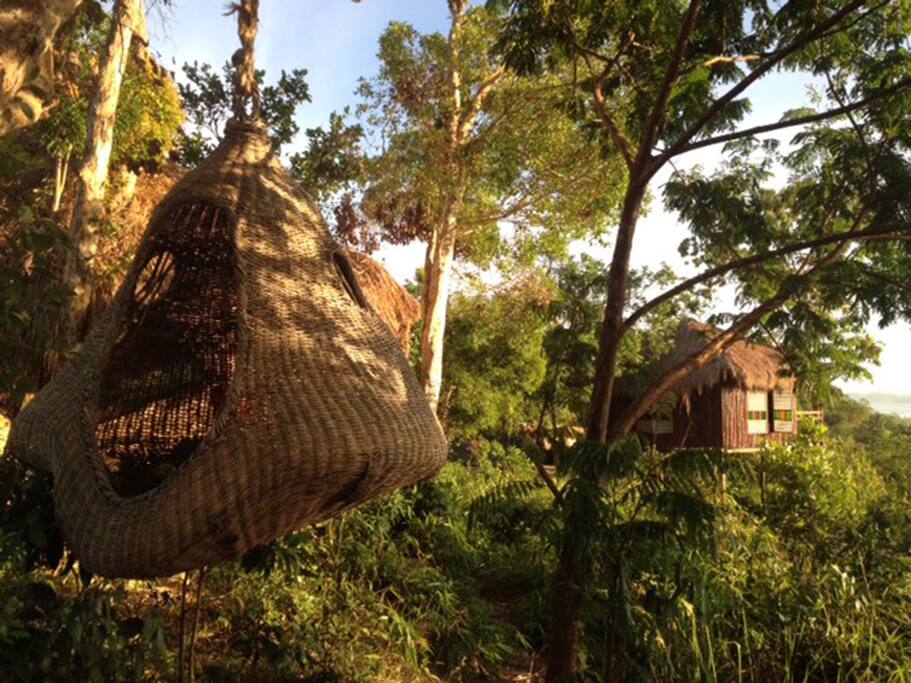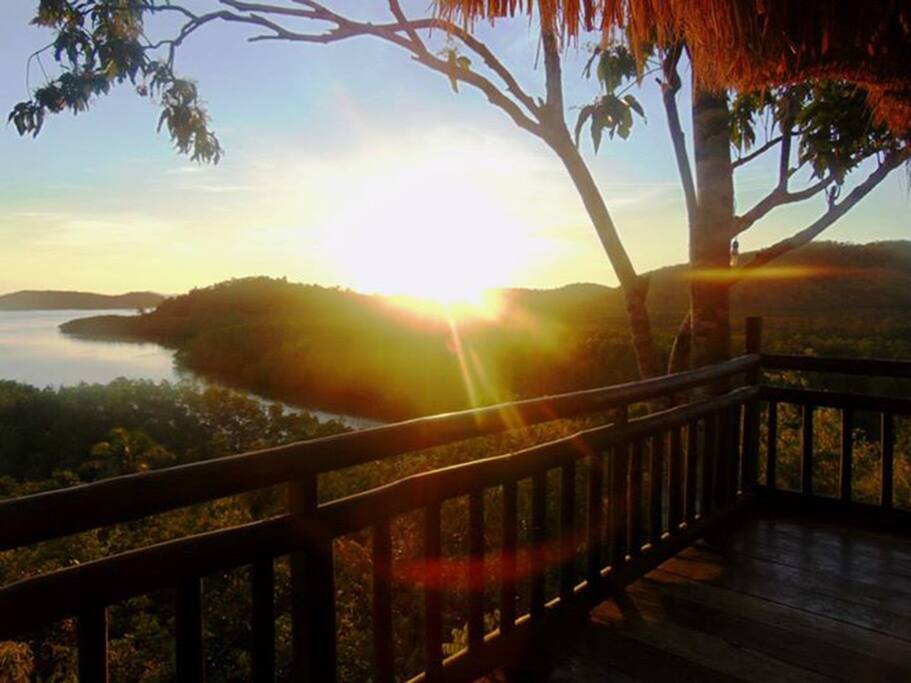 Rates: $40 per hut per night
Airbnb listing
5. Artistic Vintage Magical Treehouse – Kuta, Bali, Indonesia
"First in Bali. Magical treehouse in a vintage village just a 5minute drive to the beach. Living structures built from shipwreck timber and with trees growing through walls. Onsite vintage cafe/bar/restaurant." (taken from their Airbnb description)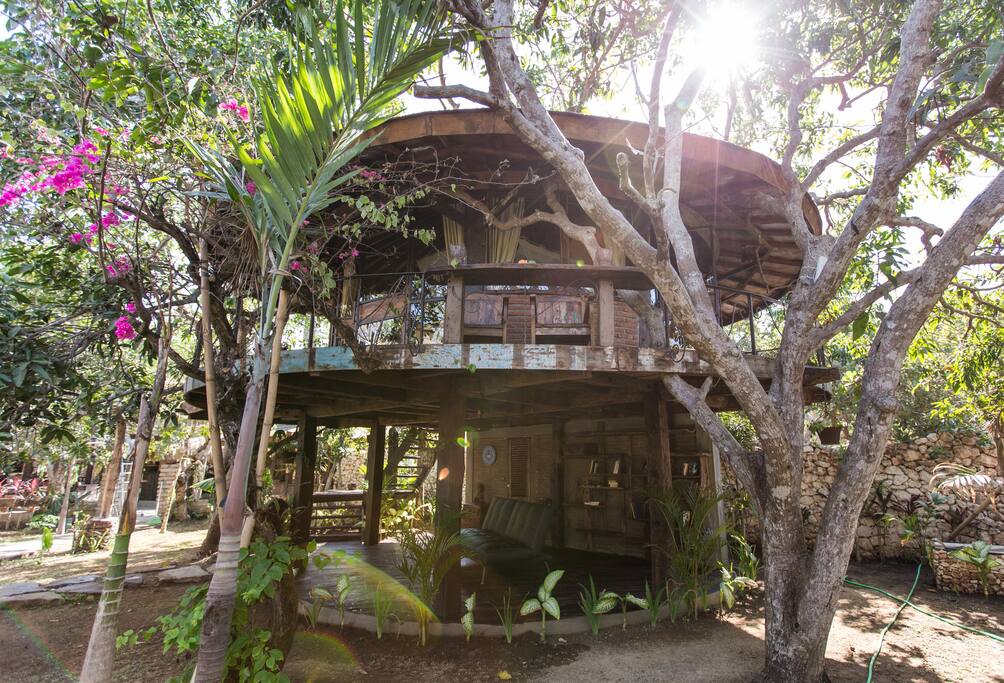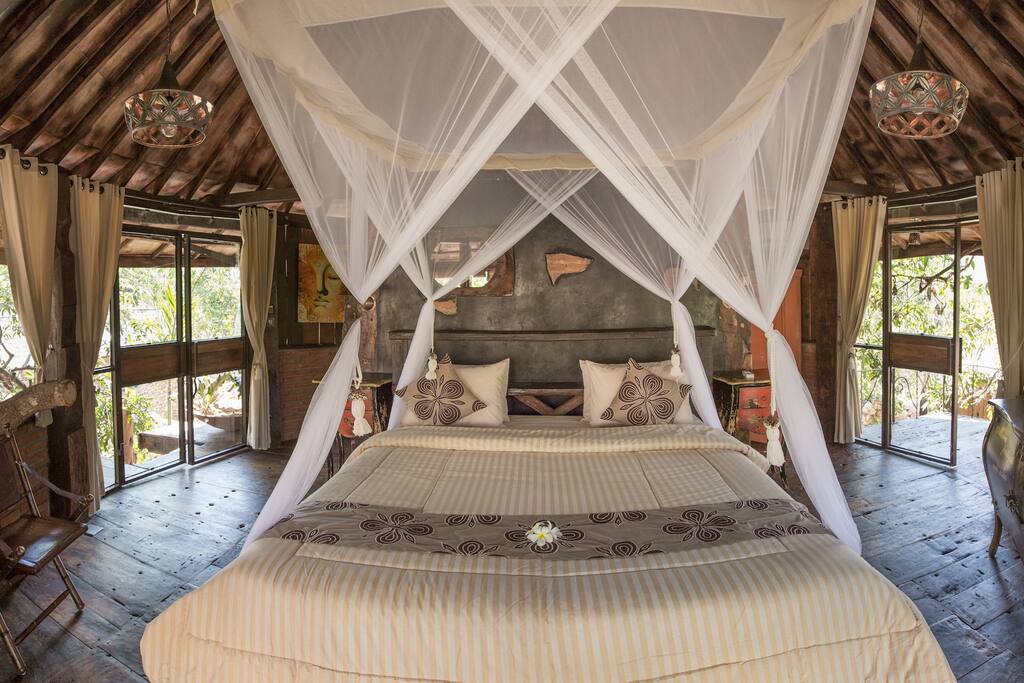 Rates: from $60 per room per night
6. New Magical Treehouse – Ubud, Bali, Indonesia
"On the edge of town, yet hidden from the hustle behind 6m walls, our treetops escape sits in a secret garden that feels like a movie set. Overlooking a temple & some of the last rice fields in central Ubud a stay here will be a magical adventure!
Opening in January '16 it will feature 2 rooms on 2 floors, two generous bathrooms (one with treetops view, & one accessible to your private pool by walking through a waterfall!) and outdoor bathtub. It's not just a place to stay, it's an experience!" (taken from their Airbnb description)
Rates: $130 per room per night
7. Bangkok Tree House – Bangkok, Thailand
There's a really cool treehouse hotel in Bangkok, the rooms are called nests and you get free ice cream if you stay there. Great concept, would love to stay there one day. Check out their River nest – how crazy would it be to stay there for a night?
Rates: $125-309 per nest per night
Bonus
Here are a few more treehouse hotels, that didn't make it to the list – three in Thailand and one in Vietnam (the latter can't technically qualify for a treehouse, it LOOKS like a tree). But sharing is caring, so keep them in mind if you're planning your next vacation:
Beautiful places, right? I know a few people who actually have "Stay at a treehouse for a night" on their bucket lists, myself included. Have you ever stayed at a treehouse hotel?